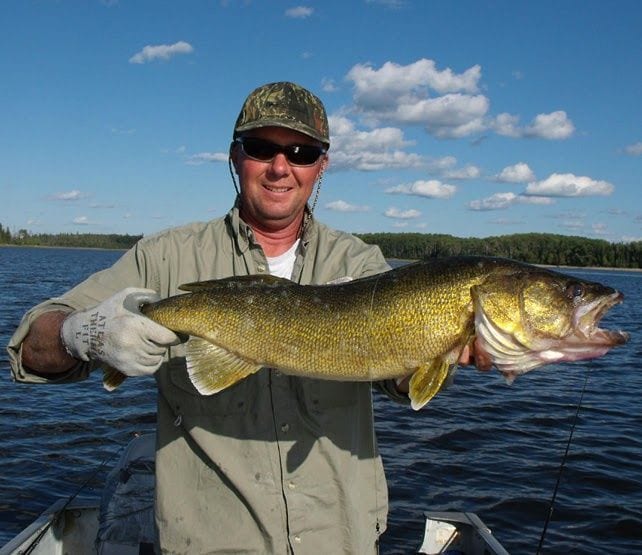 Considered one of the top Walleye destinations in Ontario!
Beteau Lake Walleye Fishing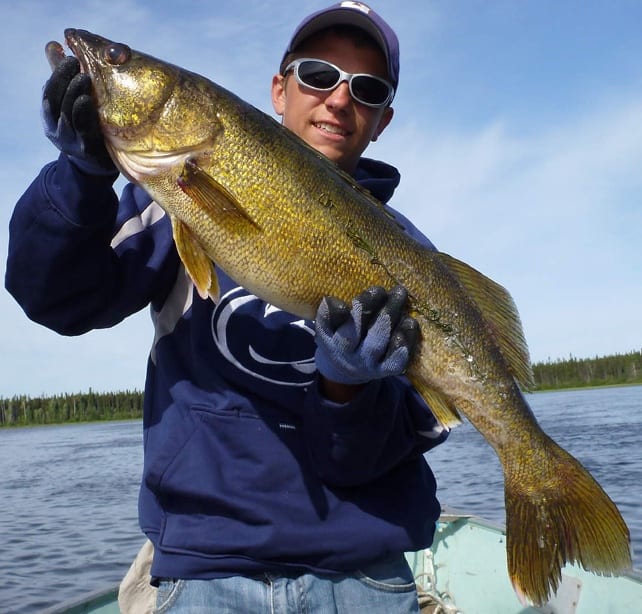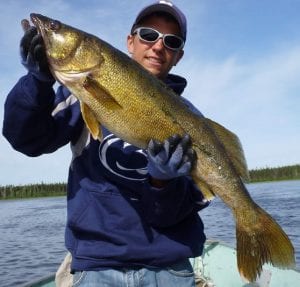 Beteau Lake is a widening of the famous Attawapiskat River and down stream around 35 miles from Attawapiskat Lake.
The Walleye fishing in the Attawapiskat water system is outstanding and considered one of the top Walleye destinations in Ontario due to its remote location and the low fishing pressure. You have to travel 60 miles south to reach the most northern camps that other outfitters in the area offer. Ontario's Walleye fishing regulations combined with our catch-&-release policy ensures ever increasing opportunities for big trophy Walleyes.
Weather can greatly affect the way the Walleyes are feeding but generally on an average day of relaxing fishing you should catch between 20 and 50 Walleyes in a day. On overcast days with a little rain and wind the Walleyes generally feed better and you can catch 50 to 75 Walleyes in a day. Guests who are experienced on the river and fish intensely have been known to catch much more and some guests achieve that magic 100 Walleyes in a day. If you are new to Walleye fishing we will set you up with some techniques that are red hot as well as give you a map of the hotspots.
Some guests want high numbers, and others fish for trophies. The average size Walleye is 2-4 pounds. Guests catch Walleyes up to 5 pounds daily. During a week of fishing some guests will catch Walleyes up in the 10 pound range. The largest Walleye caught has been a fat 32.5-incher that weighed in at 14 pounds. Because of our catch-&-release policy all those trophy Walleyes are still there and waiting for you.
In the spring all the Walleyes are shallow and right up against shore in 2 or 3 feet of water. As the spring fades into summer the smaller Walleyes in the 2 to 3 pound range will be found 3 to 5 feet of water. The big trophy Walleyes, which are almost always female, will stay down 8 to 12 feet during the day and then late evening will come up into the shallows. The Walleyes are also constantly moving. The majority are found in the bottlenecks of the river where there is some current. You will also catch them off rocky points leading into bays and off the weeds but in deeper water to avoid the pike. The Walleye go back and forth between areas of current and make stops at the structure discussed above.
Windsor Lake Walleye Fishing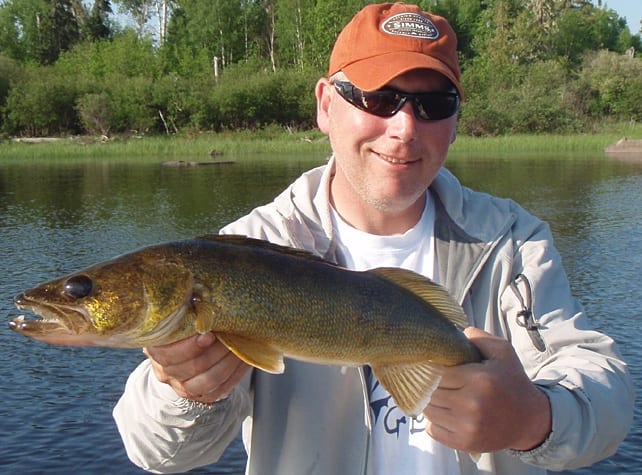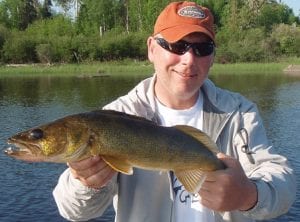 Windsor Lake not only produces gigantic Walleyes, it produces vast numbers. The main water system consists of three main bodies of water that are just stuffed with Walleyes and gives you 20 miles to fish.
For guests who have a more adventurous spirit; they can drive the boat through some narrow spots with current and have access to even more lakes.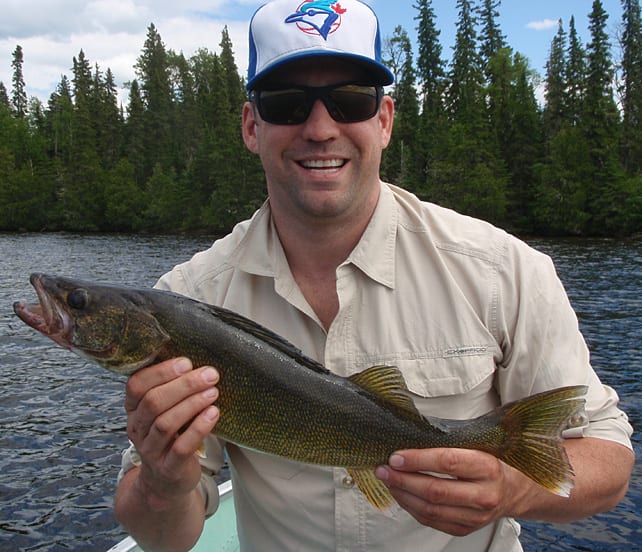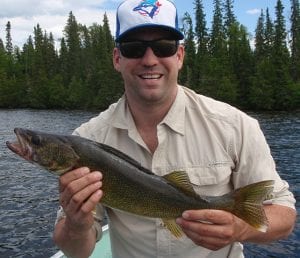 How many Walleyes you catch in a day depends on factors such as weather, fishing skills and how hard you work. You should be able to catch 50 to 75 Walleyes in a day and on really good days catch between 75 and 100.
You will catch lots of 2 and 3-pounders and during a week catch a couple in the 5 pound range. Even though the average size Walleye is a little smaller than Beteau Lake, there are still big Walleyes in this lake. Walleyes over 27 inches have been caught-&-released by our guests. This lake is not very deep and very easy to fish.
You will basically catch Walleyes everywhere where there are rocks, weeds or current during the summer. In early spring, the Walleyes are either in the current or up against shore near sandy beaches or sandbars.
Richter Lake Walleye Fishing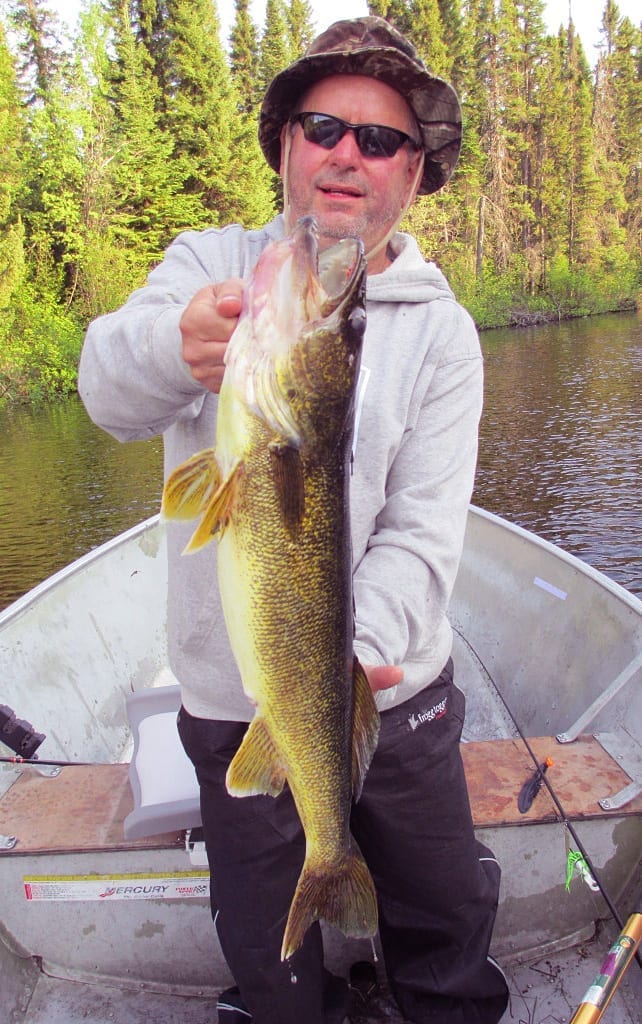 For guests who want to catch Walleyes until their arms fall off we send them to Richter Lake. This lake is so easy to fish because it's basically 10 feet deep right across with a couple of holes that go down to 20 feet. It has a rocky Canadian Shield shoreline but the bottom is usually sandy with large beds of Musky Cabbage and Pickerel Grass. The Walleyes are everywhere. This could be the best Walleye lakes in Ontario as far as numbers.
On an average day you should be able to catch 100 walleyes and on a really good day that number can reach 150. Guests have found spots where it seems like Walleye are caught almost every cast. The Walleyes are a little smaller and are common in the 1.5 to 3 pound range but a fair number of Walleyes in the 5 pound range do get caught. There are bigger Walleyes in the lake and guests do catch Walleyes over 25 inches but generally we send people to this camp that just want to have loads of fun. It's also a great place to bring the kids or people new to fishing because it's so easy to catch fish. It is not unheard of for a group of 6 people to catch over 2,000 walleye per week with an average size of 18 to 22 inches.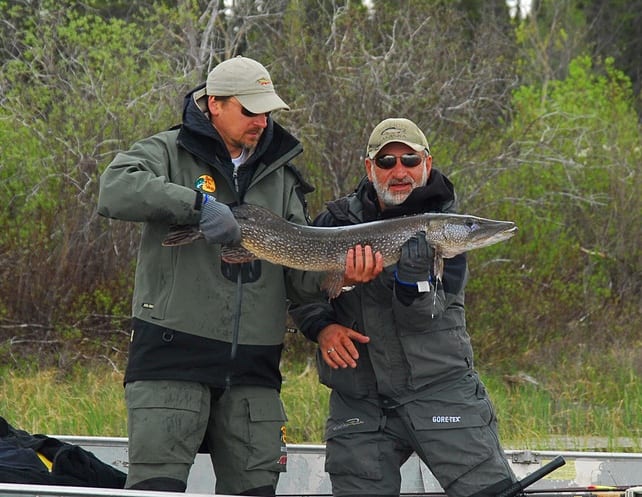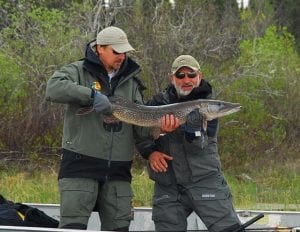 Blackbirch Lake Camp is open for World Class Trophy Walleye fishing adventures. And I mean BIG fish! This camp is 50 miles farther north than our main camp on Beteau Lake and is one of the most remote northern outpost camps in Ontario. It is an untouched paradise with fishing that is among the best in Ontario.
There is nothing else to say except Absolutely spectacular!


Our Conservation Policy
We would ask that all of our friends and guests observe a ​100% no kill policy on all Pike.​ We believe this is the only way to ensure the quality of the experience. In addition proper handling of these magnificent fish is imperative. We will provide each boat with a landing cradle to help assist in the handling of larger fish. Please try to keep the fish in the cradle at the boat side while unhooking. Wire cutters, long nosed pliers and jaw spreaders are essential tools for a quick and safe release. If the hooks are buried too deeply please utilize wire cutters to quickly cut your hooks and remove the lure. When your partner is ready with the camera quickly lift the fish for a photo being very careful to support the fish underneath as well. Vertical holds can damage internal organs! Please use a glove as well when hoisting the fish in the boat for a photo. Your grip will be enhanced and the risk of dropping these large, strong fish in the boat will be minimized. Return the fish as quickly as possible to the water to be revived. If they seem particularly weak utilize the cradle until their strength has returned. If everyone uses these handling techniques it's my hope that most of the delayed mortality caused by improper handling will be eliminated.
Eat as many walleye as you wish within the Ontario Guidelines for our zone that are 18″ or smaller.​ We would ask that all walleye larger than 18" are released and that no fish are flown out with our guests. We would like to be able to continue to offer this unbelievable experience for generations to come.
Whether it be a Pike, a Walleye or a majestic Bull Moose, conservation and guest cooperation with our policies is the only way we will be able to maintain this truly special place for future Hunters, Anglers and their families for years to come.We thank you in advance for your commitment to joining us in this endeavour.